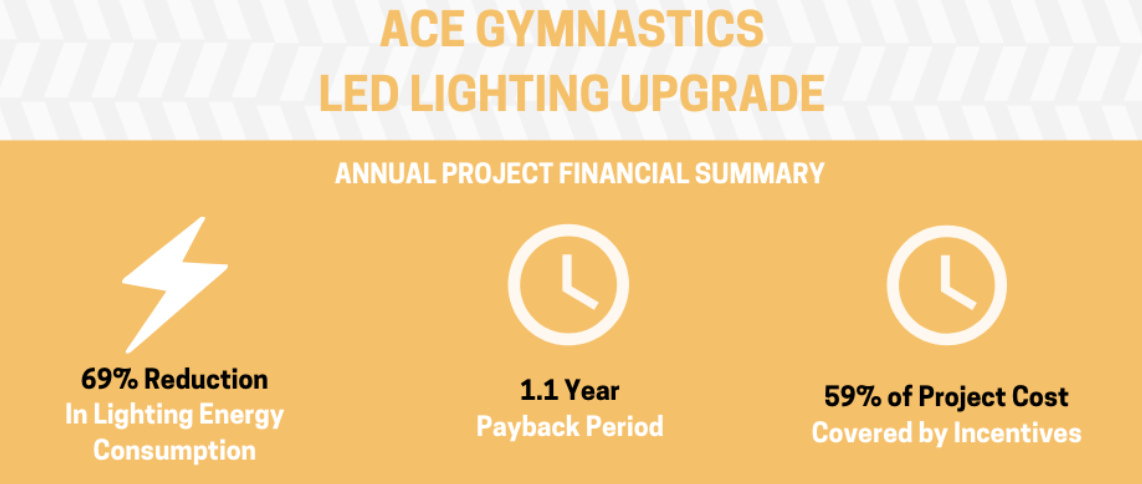 Ace Gymnastics is a custom-designed gymnastics facility located in Albany, NY. They offer a variety of classes in their state-of-the-art facility fitted with brand new regulation junior Olympic gymnastics equipment. Furthermore, they have a dedicated area for pre-school classes and a party room. Alec Chatterton, the owner, and coach has a lifelong involvement with gymnastics including 15 years of competing at the junior Olympic and collegiate levels. 
Integra LED kicked off the project by completing a complimentary lighting assessment of the facility. This assessment enables Integra's team to evaluate the current lighting system and develop a custom solution utilizing modern LED lighting. Additionally, Integra's operations team worked directly with Ace Gymnastics' utility company to secure incentives based on the proposed energy-saving solution. Each incentive application is different depending on multiple variables but on average, our customers see a 35% reduction in total project cost from incentives. 
Ace Gymnastics will see savings of $35,800 over the next 10 years on their utility bill. A large portion of these savings can be attributed to the replacement of their 400W metal halides with 135W LED high bays. Integra replaced 16 in total which will save Ace over 5,000 Watts. High bays are a great option for any large facility that has high ceilings and requires a high light output. As you can see in the comparison below, the upgrade greatly improved the quality of light in the space as well.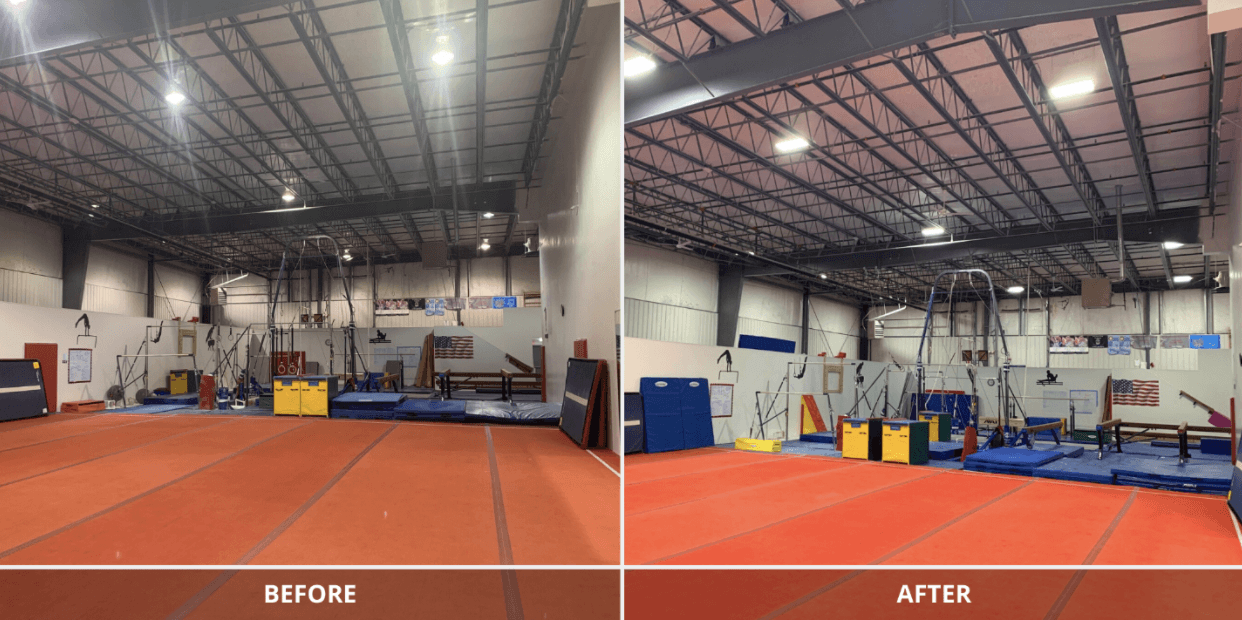 As shown in the before and after photo, the fixtures are placed quite high in the ceiling. Replacing HID lamps is a costly and laborious process, they have relatively short lifetimes making them difficult to maintain. LEDs commonly last 4 times longer than HID lamps which reduces the time you spend maintaining your lighting system and money you spend on new lamps! 
Integra LED works with a variety of businesses ranging from manufacturers to medical spaces across the Northeast. On average, our customers save up to 70% on lighting cost that shows up directly on their utility bill. If you are interested in saving with LEDs, fill out the short form below! This form will connect you with one of our team experts who will help you get started on your lighting upgrade.