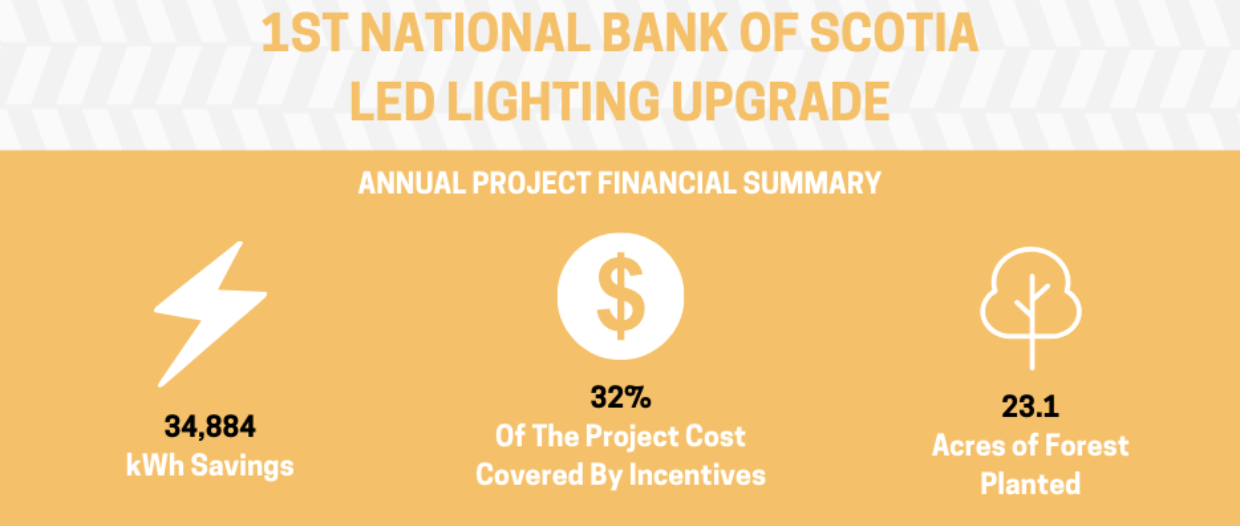 The 1
st
National Bank of Scotia is a staple in the Capital District that has been in operation since 1923. Their rich history and quality service has made them a leading force in the areas banking industry. Integra LED connected with the bank to complete a complimentary energy assessment at their branch located on Erie Boulevard in Schenectady, NY. Integra's engineering team quickly counted and assessed the current lighting system in the space and was sure to not disrupt their employees. After the audit was completed, Integra generated a short yet detailed proposal highlighting the financial metrics and scope of their upgrade to LED lights. The 1
st
National Bank of Scotia was pleased with the proposal and decided to move forward with the project.
After the proposal was signed, Integra's operations team worked directly with the bank's utility company to secure incentives for their project. These incentives reduced the total cost of the project by 32% making the projects payback period only 2.5 years! Furthermore, the 1
st
National Bank of Scotia will save over $50,000 during the first 10 years of its upgraded lighting system. 
Office spaces such as banks are excellent candidates for LED upgrades. The main benefit of upgrading is reduced energy cost, but LEDs offer much more than that. The cost of maintenance is greatly reduced due to bulbs lasting longer and not requiring to be switched out constantly. Furthermore, research has shown that LED lights can increase productivity in employees.