LED Lighting Applications: Manufacturing
Integra LED has worked with numerous manufacturing facilities over the years offering quality lighting solutions. Over this time, Integra has gained insights on the best solutions for manufacturing facilities to help them receive high-quality lighting that significantly reduces lighting costs. In this week's LED Lighting Application, we will discuss some of the best insights we've received while working with manufacturers! 
Common Replacements 
We commonly replace high-intensity discharge lamps also known as HIDS as well as fluorescent troffers. These two options are extremely outdated, they are up to 70% less efficient than modern LEDs and offer an inconsistent and unreliable source of light. When it comes to lighting for manufacturing spaces, we commonly replace the entire fixture with a one-piece LED solution. Below are two examples of upgrades we install for customers. 
HID Lamp Upgrade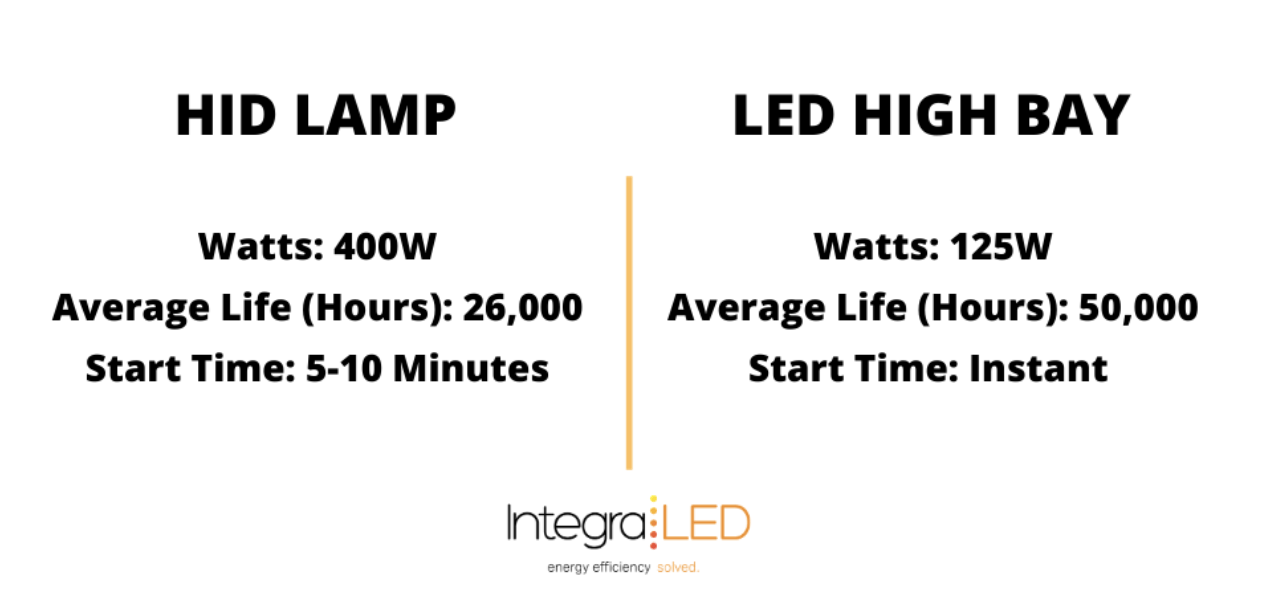 LED high bays are a great solution for outdated HID lamps. As you can see in this example, the LED option will last around 3.8x longer than the HID lamp while using almost 70% less electricity. Furthermore, HID lamps have a long start time which can slow down employees whereas LED high bays turn on instantly saving your company time and potentially money! 
Fluorescent Tube Upgrade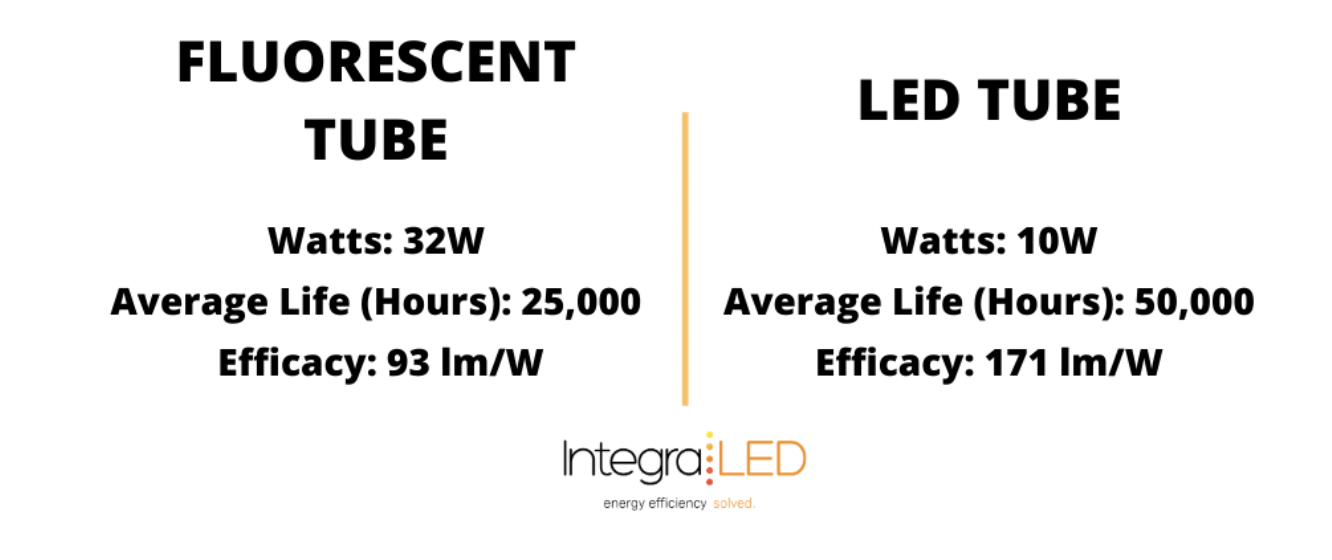 LED tubes are the most common upgrade we see here at Integra LED. They let the facility keep the original troffer they have because tube replacements only require new drivers and LED tubes. As you can see above, LED tubes are significantly more efficient than fluorescent tubes. In general terms, efficacy is a ratio comparing light output to energy consumption. Therefore, the higher the ratio, the more efficient the light source is. 
Safer Employees 
Considering the number of hazards in a manufacturing facility, safety is a priority for your employees. Put yourself in the shoes of an employee, you are handling dangerous machinery that cuts raw materials. It requires a high level of precision and needs you to move quickly to avoid bottlenecks in the manufacturing workflow. In situations like this, employees need an environment they can focus in and safely handle the dangerous machinery they are using. Lighting is a major factor in employees' safety as well as productivity in situations like this. If an area is underlit or improperly represented due to a low color rendering index (learn more here), it can create risk for your employees due to poor vision or focus. Furthermore, fluorescent lighting is commonly linked to headaches and other cognitive issues that can affect an employee's focus and overall health. 
LED lighting is the most modern and efficient solution for manufacturing lighting systems. Integra LED has installed countless systems for manufacturing spaces and seen tremendous results. On average, our customers reduce their lighting costs by up to 70% and get up to 35% of their project cost covered by incentives.